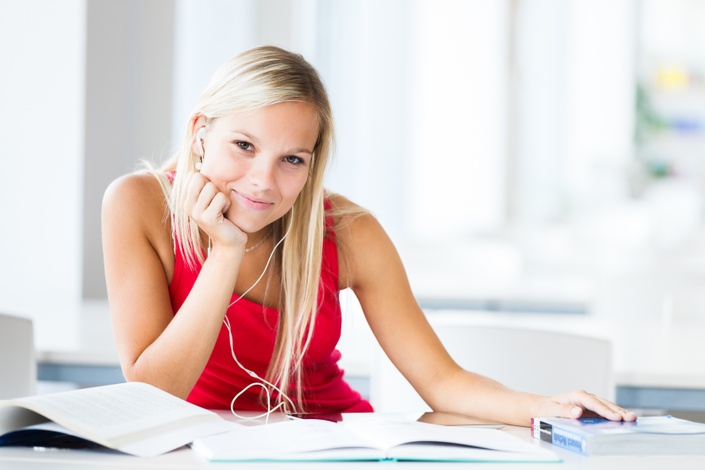 Master Present Tense Conjugation in FIVE days
In 5 days your middle-high schooler will learn how to master and use regular present tense conjugation!
Parent! Boost your teen's Spanish communication skills in 5-days.
Your teen will learn, review, understand, and apply REGULAR present tense conjugation rules in 5 days!
Learning Challenge: December 9th-13th

Knowing vocabulary is not enough to gain the confidence to speak Spanish.
Sometimes conjugation is the missing piece of the puzzle. Knowing how to conjugate improves students' confidence and communication skills.
I created step by step learning experience to help your teen get rid of the confusion and start speaking using the present tense.


During The 5-day learning challenge he or she will have access to a certified Spanish teacher and learning community.
Your teen will finish 2019 STRONG, knowing how to use and speak Spanish in the present tense.
When? December 9th-13th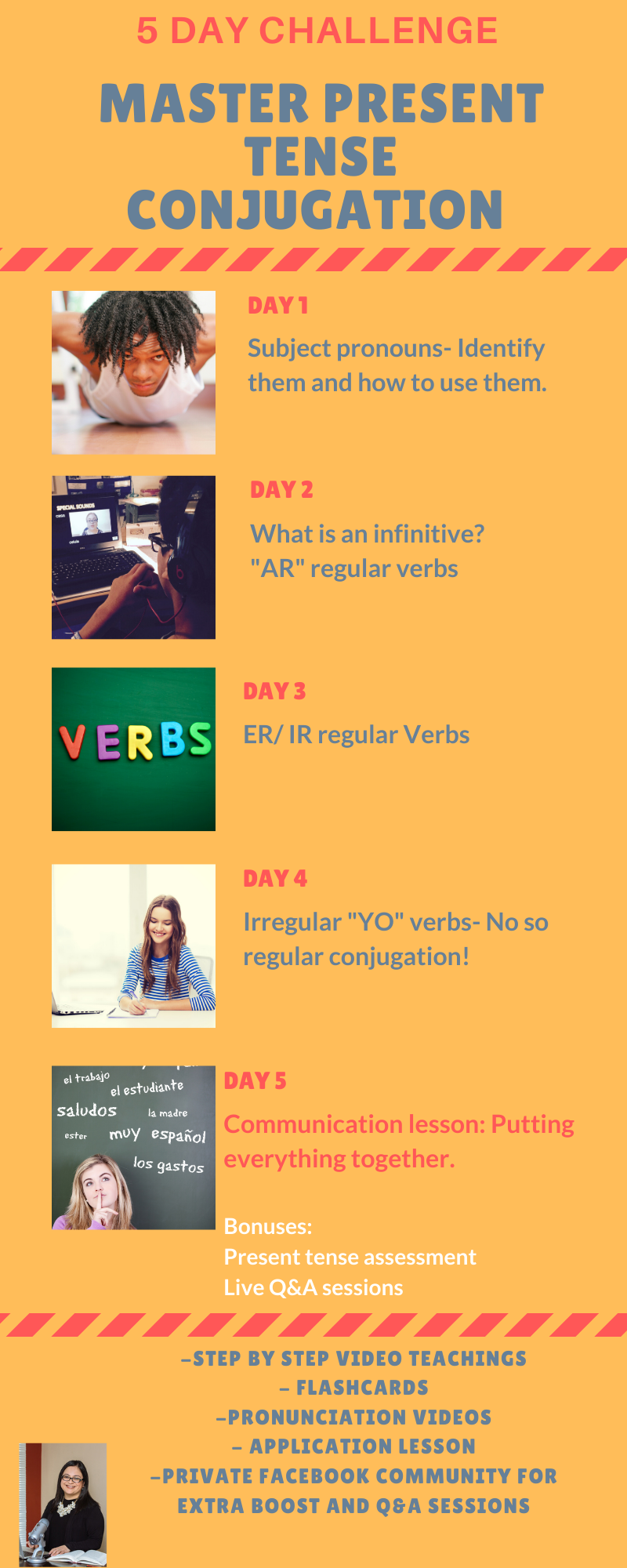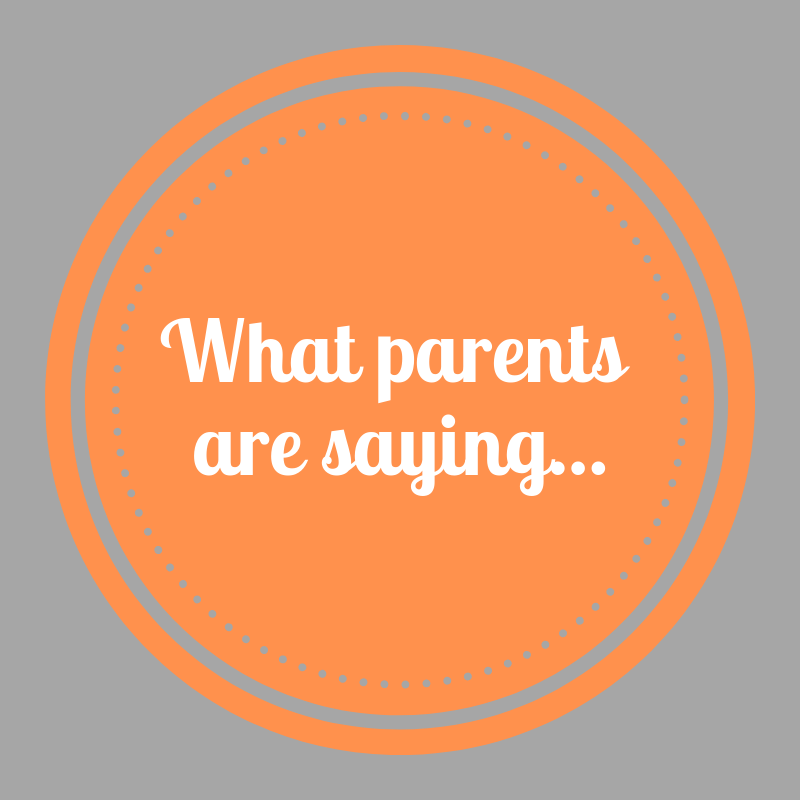 "Sra. Morato teaches in a way that encourages her students to want to learn the language. Makes this momma happy to know my child is enjoying learning Spanish and seems to be retaining it."
- Mrs. Dison
"He went from resistance to learning Spanish to enjoying it and looking forward to class. What a change. Thank you so much Sra. Morato."

-Mrs. Parsons
Frequently Asked Questions
How much time my teen needs to invest?
To get results, at least your teen needs to invest 25-60 minutes every day.
What kind of instructions do I need to give to my teen?
As the parent, you are the facilitator. After you or teen sign up, you will have access to all the instructions and materials. You need to supervise your teen can access and follow the daily instructions.
For how long my teen will have access to the material?
Two months.
What kind of learning tools my teen will use to learn the material?
Your teen will use video teachings, digital flashcards, pronunciation practices, worksheets for extra practices, and one optional multiple-choice assessment.
When does the challenge start?
December 9, 10, 11, 12, 13
What happens if my teen cannot participate in that week?
Your teen can join now and do the work when he or she can. You will have access to the material for two months. Also, you will have access to the PRIVATE Facebook challenge conjugation community
How are the Q&A sessions done?
You will be invited to join a private Facebook group. Q&A sessions and reviews will be done there daily. If your teen misses the live sessions, he or she can watch it later.
What Spanish level is this challenge best?
All levels. If your middle-high school teen needs to learn or review the present tense, this challenge is for her or him.
Can an adult take this challenge?
This challenge is gear to middle-high school students.
We already have a Spanish curriculum. Can this learning challenge be still useful?
Yes! The present tense is present no matter what level or textbook. This opportunity saves your teen time, energy, and avoid confusion. Your teen will learn or review how to use the present tense to speak, not just to pass a test.
Can we not do the learning challenge in five days?
Yes! Your teen will have access to the lessons and materials for two months. My teaching and homeschool mom experience have taught me that it is essential to have a dateline. Middle-high school students are very busy this is why the learning challenge is short. You have access to the teachings and materials 24/7.
Can we do this challenge as a family?
Yes!!! I encourage family learning all the time. My teaching experience has taught me that upper elementary students can learn grammar. However, as the parent, if you are directing the learning, the results can be amazing!
Why did I call it a challenge?
My goal is to save your teen time, energy in learning this concept in the most effective, fun and practical way. I put together 20 years of teaching experience. So your teen can learn it or review the present tense it in five days.
How can I contact you?
Write to me at
[email protected]
To find more information about my Spanish K-12th programs for homeschoolers please visit my website. https://homeschoolspanishcurriculum.com/
Parent: Save time and frustration. You can give your teen a unique and fun Spanish language learning experience!

How to join
Step 1- Click the button below, which will take you to a page to fill out your name and email address and choose a new password for your teen's access to the program.
Step 2- You'll move on to fill out your credit card details (For PayPal option please email me)
Step 3- After you enter your payment details, you'll receive a confirmation and welcome email from me explaining first steps for your child to take in preparation for the program , which begins with an orientation week.
Your Instructor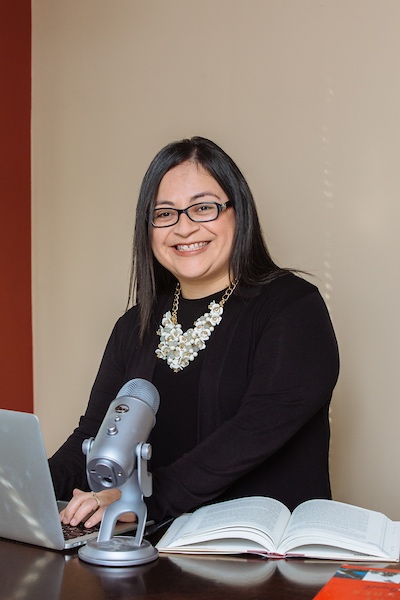 About Sra. Morato
Spanish certified Instructor Prek-12th grades. M.A.Ed. in Curriculum and Instruction and Online learning. Former Fairfax County Public teacher-Guatemalan native. Taught IB Spanish (international Baccalaureate program) and immersion classes for teaching 16 years. More than twenty years of classroom, tutoring experience. From primary years to advanced levels. Has helped hundreds of students learn Spanish better and to speak with confidence. Her students have gone to experience Spanish beyond the classroom. From traveling opportunities to studying Spanish at a college level.