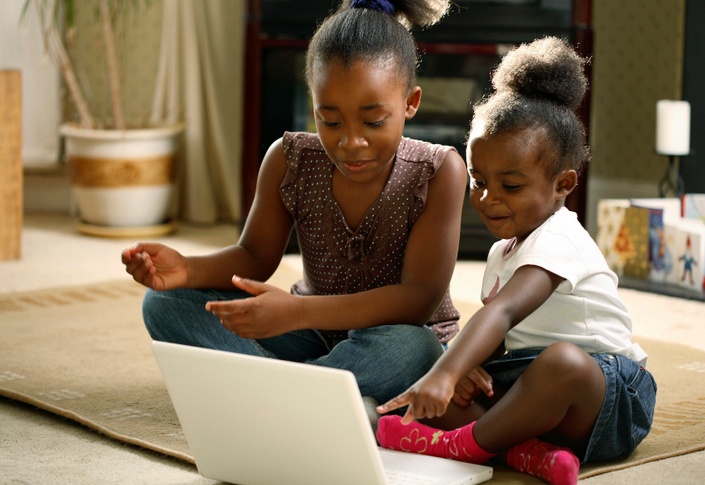 Online Elementary Spanish Program for the ENTIRE Family with an Immersion Approach
Self-paced with Video Teachings, Flashcards, Worksheets with Teacher and Community Support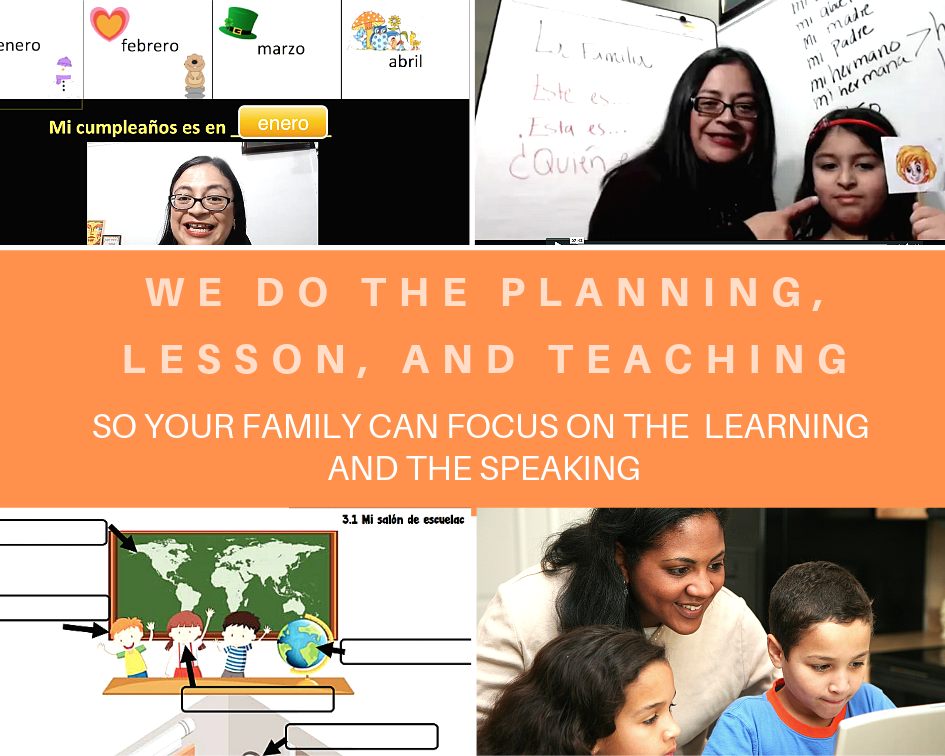 Check out the topic guide Click here
New features: Twice a month reading time, writing lessons and weekly office hours for extra support
Study Spanish at your own paced, schedule, and time!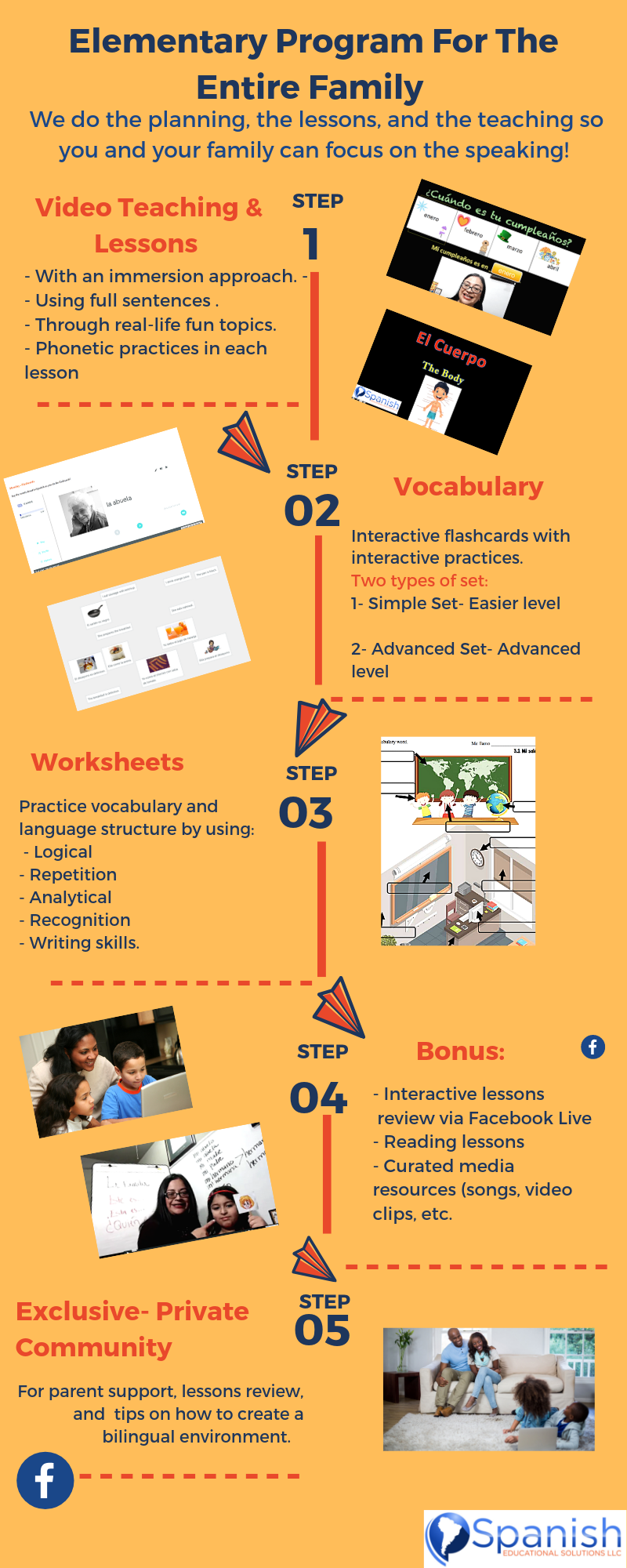 Introducing the Spanish Elementary Program
with the Immersion Approach
A self-Paced Program
ONLY
$27 a month for the entire family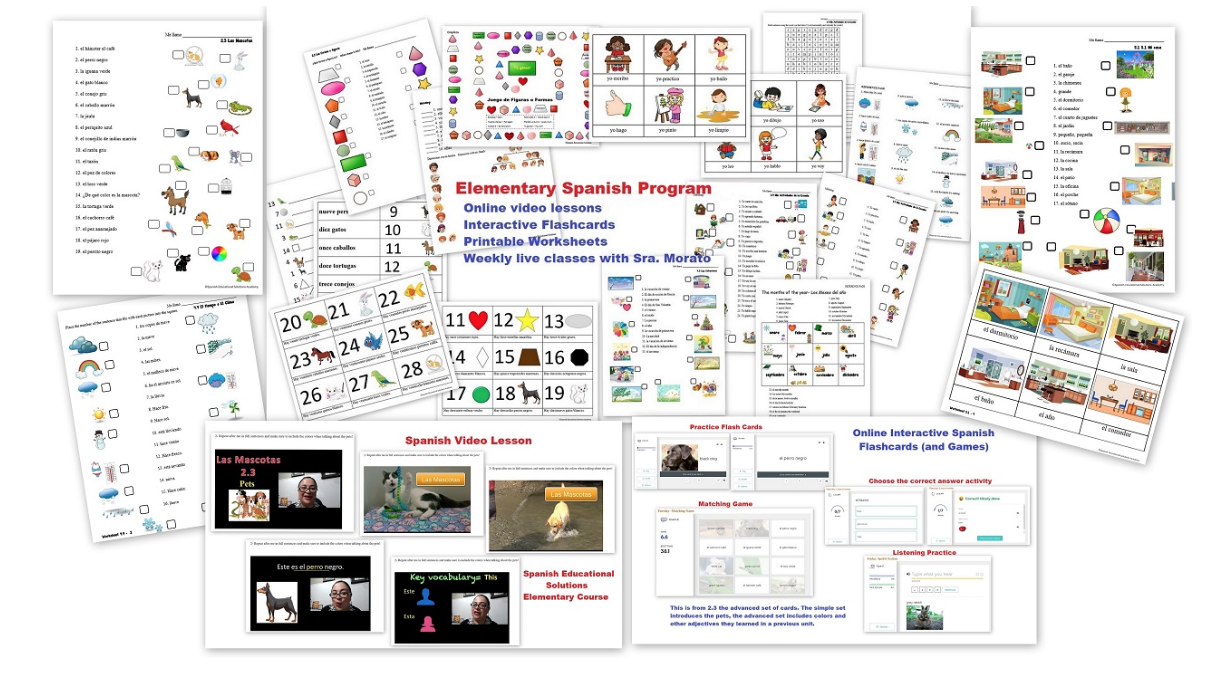 Sample of a weekly lessons review: 1.1 Mi Familia
These are done via Facebook Live inside our exclusive private community. Fridays are lesson review time. Parents and students join to watch the review lesson and practice interactively with me and my daughter in Spanish.
Parents and students benefit from this feature because it creates consistency and motivation to continue learning every week.
Here is a sample of a lesson review.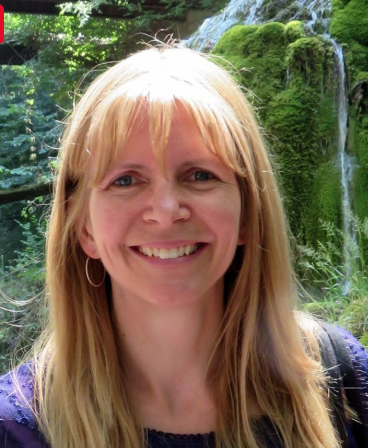 "It is a relief for me to have an expert and experience Spanish instructor and native speaker teaching my girls. I could not teach my children to speak Spanish because of this program they are learning so well and fast."
- Liesl, from the Homeschool Den
What parents are saying!
"Sra. Morato teaches them how to speak..."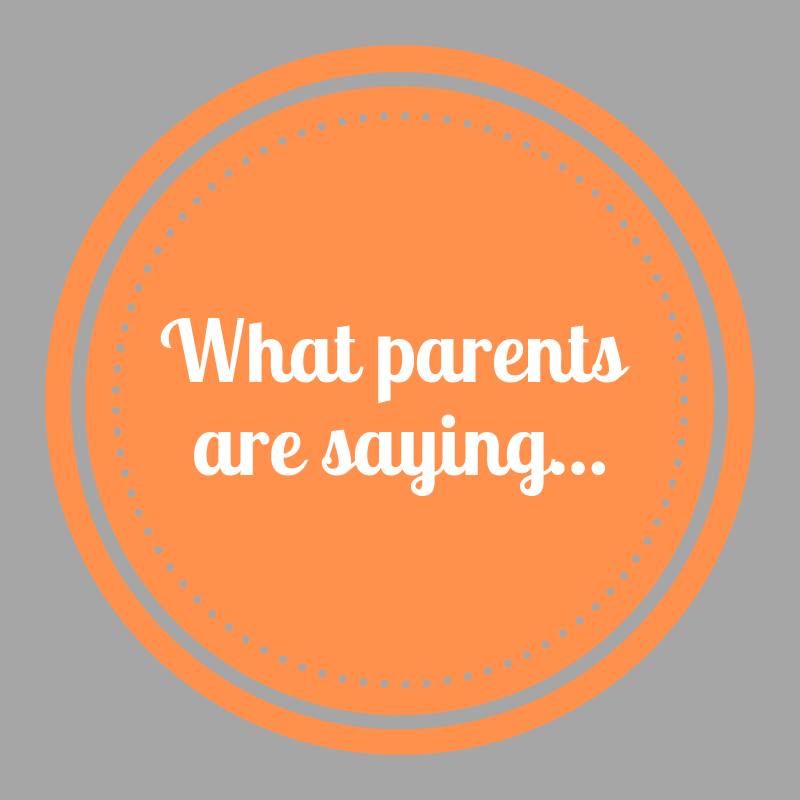 "My daughter does Spanish lessons daily. We are watching cartoons once a week, we play games and have fun! My daughter continues to tell people that Spanish is her favorite Spanish! Thanks to you for the enthusiastic introduction to Spanish."
- A Happy Mom, from Virginia
How your family will benefit from this program:
Open up new opportunities for your child's future career and lifestyle

Learning and speaking using full sentences

Phonetic (pronunciation) practices in lesson

Develop real-world conversational Spanish skills that will last a lifetime.

Consistent learning methodology for effective learning
What you get:
You will save time and energy.

All inclusive affordable ONLINE elementary curriculum and program with video lessons, learning tool, practice worksheet sets, and parent support.

Access to a certified- native speaker Spanish teacher

Save time by not having to drive to classes and research practice pages, songs, etc.

Stop frustration by trying to teach Spanish in your own

Peace of mind knowing that your child or the whole family is learning Spanish and moving forward and becoming bilingual

Consistency so your family can develop the Spanish skills needed to speak the language on daily and weekly basis.

Access to a private Facebook community so you can be part of like minded parents who want to educate bilingual children

$27 a month for the entire family
Create an amazing Spanish Portfolio
Using the step by step and topic by topic
worksheets sets
It is like creating your textbook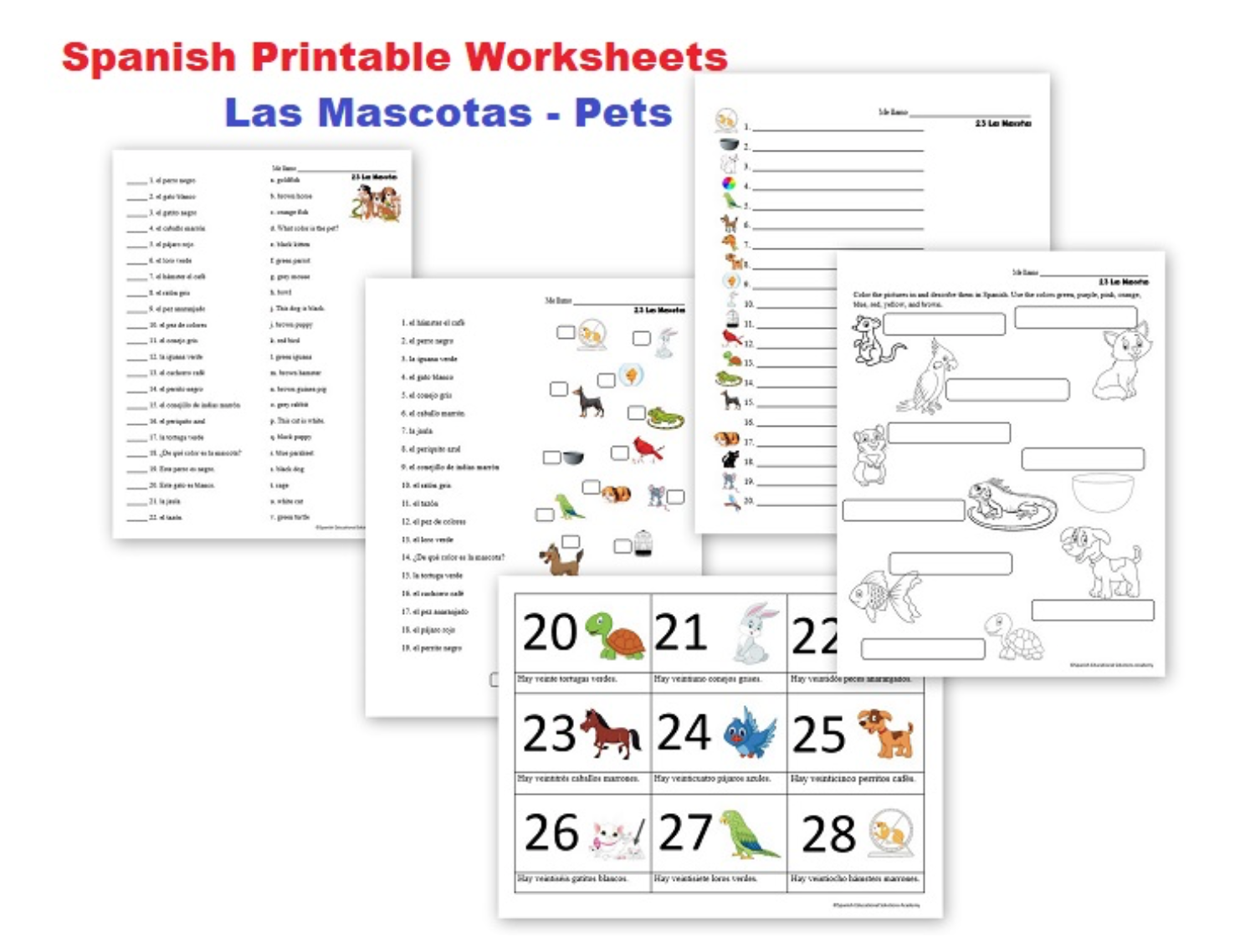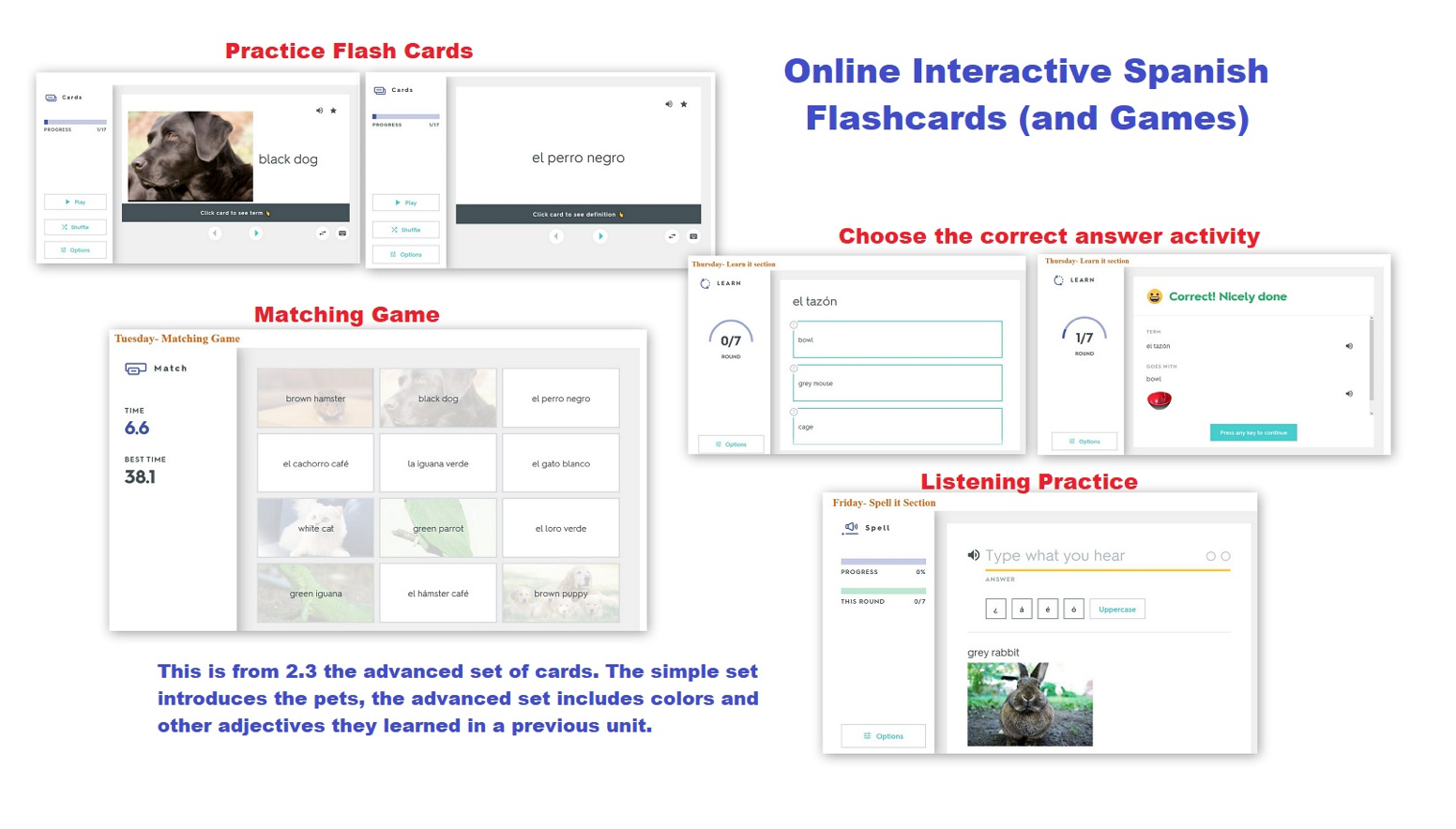 Frequently Asked Questions
Does the tuition include all my children.
Yes, the monthly fee includes access to the entire program for each one of your family members.
Do you meet with students one on one to practice Spanish?
I wish! But it will be impossible for me to do it. This is why I offer access to a private community. Weekly interactive lessons reviews are done inside the Facebook Group. Also, you can email us for extra support when needed.
Do I have to join the private Facebook group?
No, but I will strongly recommend joining the private group. Parents and students love lessons reviews!
What do I need to start your program?
Desktop or laptop, any device will work to join the facebook lives, one Spanish binder for each child. A printer to print ONLY the worksheets you want your family to work on. A set time and day when the learning is going to happen during the week.
How much time does our family need to invest in the learning?
Most families are investing 10-30minutes every day. Depends on the age of the child and the progress you would like to make. It is important to emphasize that without a set scheduled study and practice time progress is not going to be a guarantee. Learning a language requires developing a new habit that may feel messy at first but consistency and getting into a routine will make the process easier.
How long it takes to learn one topic?
It depends on the age of the child, learning skills, and the time you invest in learning the content. Some families take 4 weeks for each topic. However, it can take up to 6 weeks. Remember, you are aiming for mastering not only to cover the content.
Do you teach grammar?
Yes. Students learn to use correct grammar in each lesson. However, I do not spend a lot of time explaining the grammar.
Can I access all the topics at once?
No. Currently, you can access up to topic 7-8. Every topic takes up to ONE month to learn. Every topic has 4 lessons. (depending on how often your family is studying during the week) Notice, every month new topics and lessons are published and added to the curriculum. Currently, there is almost one-year worth of curriculum + additional lessons and lessons reviews.
How are payments processed?
When you enroll you will be asked to complete the payment information. You will be charged monthly. Once you create an account you will have a student profile and you will be able to manage your account directly. You can change the payment information and cancel any time.
How do I know if my family is ready for your program?
If you want your children to learn to speak Spanish you are ready. It is all about mindset. You have to see learning Spanish as learning math, language art, science, etc. Be willing to establish a routine, work and oversee the routine for a few weeks until your children know what to do and they make it part of the weekly routine. It should be fun but it will teach discipline and learning habits.
Can I use this program with my middle and high school students?
Yes and no. As a homeschool parent, you could. The curriculum is tailored to younger students. However, speaking, practicing and interacting in Spanish goes beyond any age. Your teen can be part of the program with the goal of speaking Spanish as a family. Please look into my upper-level grades courses (6th-12th). The upper-grade courses fulfill high-school diploma requirements. Here is my website for more information https://homeschoolspanishcurriculum.com/
Does the program work for non-homeschool parents?
Yes. Parents can use the program to enrich their children education. Some parents are enriching their children Spanish immersion experience with this program.
Can this program be used in a Co-Op setting?
How the reading time is done?
Reading time is done in our private community via Facebook Live, twice a month.
When and how the live office is time done?
Live office time is done virtually through Zoom. Most Thursdays 6:00-6:30 p.m. EST Parents can stop by to ask questions or anything related to the learning process.
How reading time and writing lessons is done?
The reading and writing practice time is done inside our private Facebook community (Facebook Live or videos)
Looking for 2020-2021 School Year
Spanish online Courses for your middle and high schooler?
Visit my website
https://homeschoolspanishcurriculum.com/
Two Options:
Course with weekly speaking classes

Self-paced and Self-study Course with teacher support
My story and answering the call to teach:
My name is Karim Morato or Sra. Morato! I have three children, and as a parent I know the feeling of not wanting to hold back your children from learning subjects that you have limited knowledge about. For example, I am not a mathematically-minded person, and I haven't studied math to an expert level. So as my homeschooled children progressed in their education, I started buying self-directed mathematics courses with videos and textbooks for them to study. It all seemed to be going OK, until my children took some tests and I realized that their skills levels were surprisingly low considering all the hard work they'd put in. You may not be fluent in Spanish and you maybe do not feel equipped or able to teach Spanish at the required level. In those cases you may be looking for a program that can give you a level of support and is affordable. This is why I created this online program to make Spanish language learning more accessible for parents and students.
Your Instructor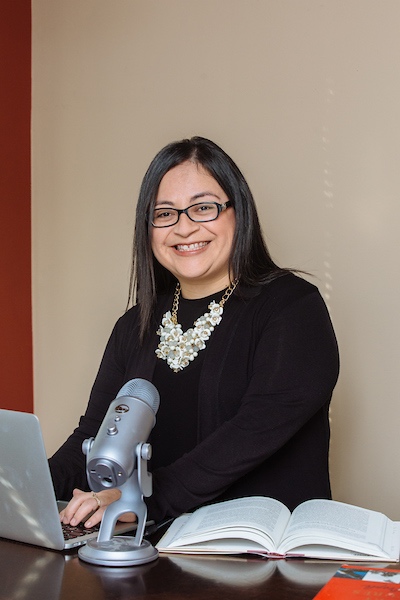 Spanish certified Instructor Prek-12th grades. M.A.Ed. in Curriculum and Instruction and Online learning. Former Fairfax County Public Teacher Spanish. Taught IB and immersion classes for teaching 16 years. More than twenty years of classroom, tutoring and Co-op experience. Teaching all levels from primary years to advanced levels to a diverse group of learners. From primary ages, homeschoolers, secondary, college students to adult professionals.